Fluorescence-based assays for semi-quantitative detection of both over and cryptic redox active forms of NTBI (Non-Transferrin Bound Iron).

Thalassemia, Hereditary Hemochromatosis and other health conditions associated with deranged metabolism of iron often result in the development of Iron Overload. This condition is characterized by elevated serum iron, transferrin saturation and serum ferritin, and in many cases by the appearance of non-transferrin bound iron (NTBI).
In many iron-overloaded patients, a fraction of the NTBI is redox active and may catalyze the formation of reactive oxygen species (ROS) in the circulation and in iron overloaded cells. The accumulation of oxidized proteins and metabolites could ultimately lead to damage in sensitive tissues such as liver, pancreas and especially the heart.
Aferrix offers an informative assay that mesures the level of iron in serum / plasma:
FEROS eLPI kit measures the Non Transferrin-Bound Iron (NTBI).
FeROS LPI assay measures the iron-specific redox activity in plasma by fluorescence technology. The assay provides a measure of potentially toxic iron in plasma which is redox active (labile) as it's not transferrin-bound as a novel monitoring tool of monitoring patients who are regularly transfused and cherlated.
The clinical use of these biomarkers allows to evaluate a possible iron overload in blood, as well as to evaluate the efficacy of chelating treatments.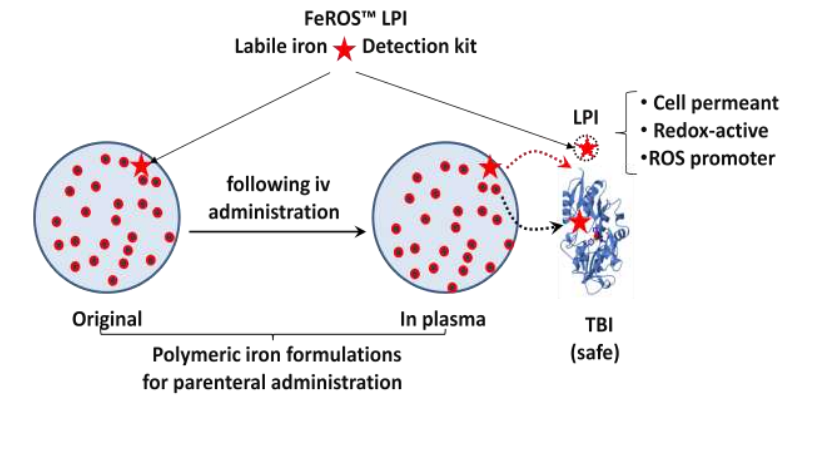 Presentations
FeROS™ eLPI
FeROS™ LPI