Detection of specific IgE in blood for the diagnosis of allergies.

The Noveos™ technology is based on the detection of specific IgE in blood, using paramagnetic spherical microparticles in an ELISA assay, to determine sensitisation to food, animals, plants, etc.
When an allergen, a substance that the body recognises as foreign, comes into contact with B cells, it triggers a response that involves the production of allergen-specific IgE by plasma cells, and it is this IgE that Noveos™ detects.
It is a technology:
Accurate
High sensitivity
High throughput
How does it work?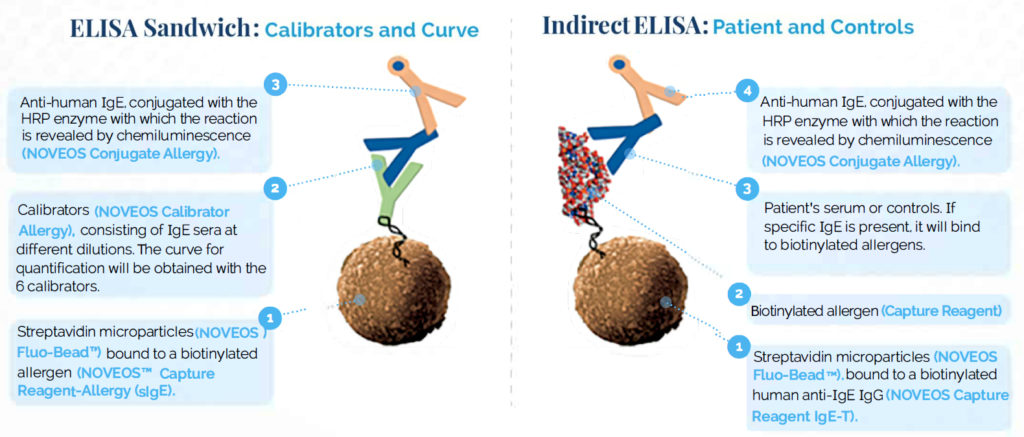 Normalisation is performed by quantifying the initial and final microparticles by fluorescence. The combination of fluorescence and chemiluminescence makes the test more accurate.
What does it allow us to do?
Assess specific IgE using whole allergen extracts (e.g. whole egg) or molecular components (e.g. egg white protein), even allowing the determination of the allergy trigger molecule, which is of interest to understand allergic cross-reactivity reactions.
Assess the clinical risk of allergic reaction. Thermostable proteins are indicative of a high risk of severe systemic allergic reaction, whereas thermolabile proteins produce mainly local reactions.
Identify the optimal immunotherapy treatments for each patient. Knowing the allergen that triggers the allergic reaction facilitates diagnosis and choice of appropriate treatment.
Features
Requires as little as 4 µL of sample per test, compared to 50-100 µL for other platforms.
10 times more tests with the same sample volume.
Reduced QNS (Quantity Not Sufficient) errors.
Reduced need for repeat sampling due to insufficient sample volume.
Innovative and reliable technology
35 million paramagnetic particles (~1µ in diameter) per test, providing a larger binding surface area than other technologies, minimising interference and non-specific binding.
Liquid phase kinetics enables fast binding and high sensitivity.
Reliable results: better clinical decision making and personalised treatment.
No false positives due to CCD (Cross-reactive Carbohydrate Determinants) and no false negatives due to interference with biotin in the sample (non-competitive indirect assay with paramagnetic microparticles).
Rapid and cost-effective technique
Automated
Results from 104 minutes.
High throughput (up to 1200 test/run*)
Intuitive interface
Connection to LIS
*Connected to water and waste.
For a list of available allergens, please contact us.