Prognostic test to determine tumour aggressiveness and 10-year disease-specific mortality in patients with primary localised prostate cancer.

Prolaris is an in vitro molecular gene expression test for patients with primary prostate cancer, which allows to study the aggressiveness of the tumour and the disease-specific 10-year mortality risk. In this way, it helps in making a decision on active follow-up or the most appropriate therapy for the patient.
It is the only validated test for all Gleason scores. It stratifies patients according to the risk of metastasis in 10 years, providing greater precision to the other clinicopathological parameters (CAPRA score).
This second-generation test combines a molecular score (CCR), obtained from the analysis of the expression of 16 genes (10 genes relevant to tumour activity in the cell cycle and 6 control genes), with the clinicopathological parameters, giving rise to the Prolaris Molecular Score or Prolaris Risk Score. This score establishes whether the patient should be included in the surveillance group or in the active treatment group.
10 prostate cancer related genes (ASPM, CDC2, CDCA8, CDKN3, DTL, FOXM1, KIAA0101, NUSAP1, PRC1, TK1).
6 reference (house-keeping) genes (CLTC, PSMA1, RPL4, RPS29, SLC25A3, UBA52).
The combination of the Prolaris molecular score with clinical parameters achieves a higher prognostic accuracy than first generation tests such as Oncotype Dx Prostate and Dechipher Prostate Biopsy.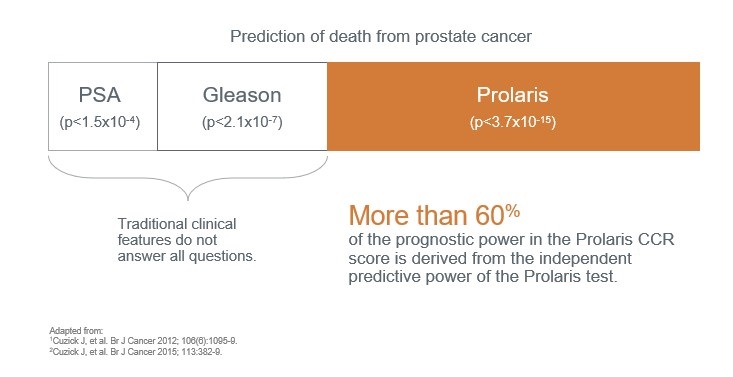 De este modo, Prolaris identifica más pacientes elegibles para seguimiento activo que los factores clínico-patológicos (Lin D W. et al 2018, PMID: 29655620). , pudiendo incluso cambiar la toma de decisión del tratamiento hasta en un 65% Thus, Prolaris identifies more patients eligible for active follow-up than clinicopathological factors (Lin D W. et al 2018, PMID: 29655620). Prolaris can even change treatment decision making in up to 65% of cases tested in prospective clinical studies (Crawford et al 2004, Shore et al 2015, Kaul S et al 2019).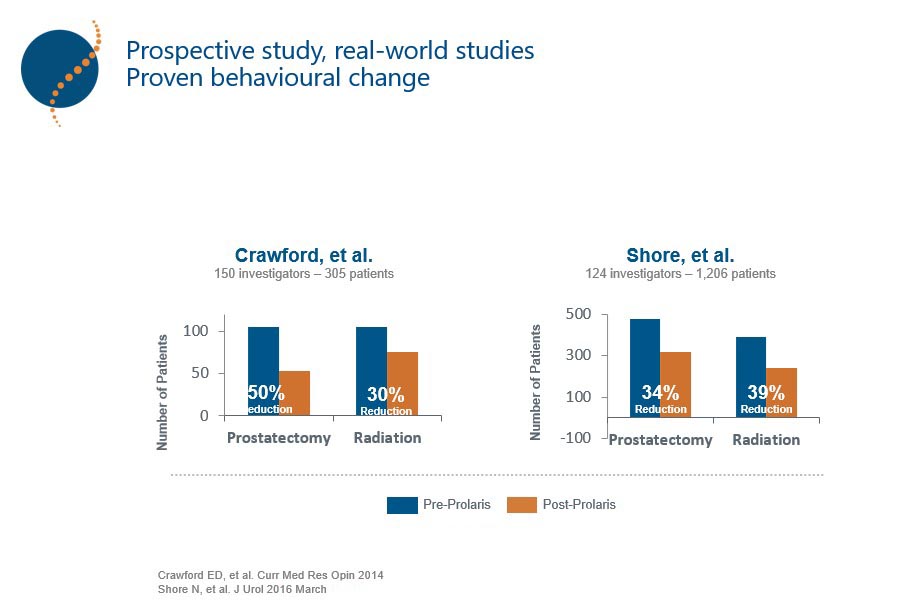 Numerous European and American guidelines, some of the most important, already recommend the use of Prolaris to improve prognosis and personalised patient treatment decision-making.

This test can be easily performed in your laboratory, but you can also choose to outsource the test to our service laboratory, Citogen*:

The result is a report that summarises the patient's combined clinical risk, showing two treatment scenarios that help to better assess active treatment or follow-up.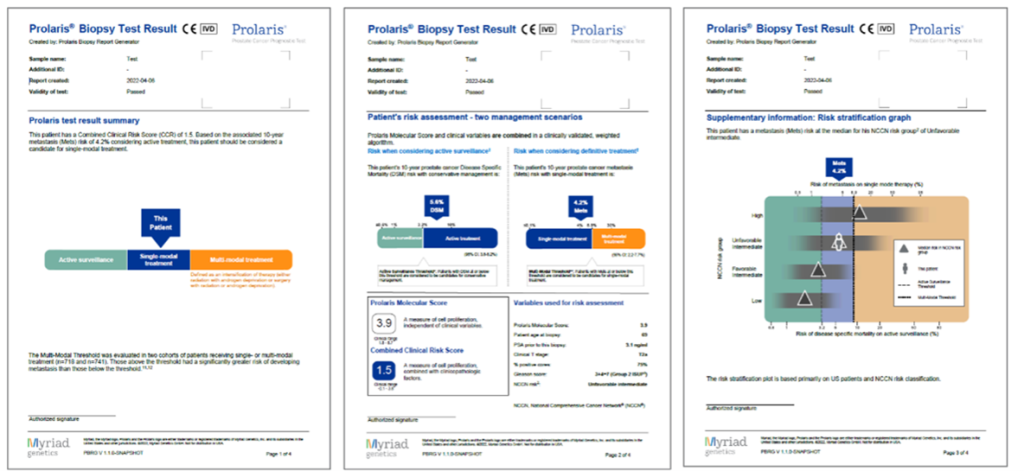 ** For more information on the Prolaris service at CItogen, please do not hesitate to contact us.
| Product | Reference | Presentations |
| --- | --- | --- |
| Prolaris® | MYR-SVQ400 | 1 test per kit |