Hereditary Cancer Solution (HCS)
Identification of germline mutations involved in hereditary cancers.

Hereditary cancers are caused by germline mutations in specific genes that are transmitted between generations, which increases the susceptibility to cancer. The identification of these mutations is important so that patients can benefit from effective early detection and prevention measures.
Mutations of several genes are known to increase the risk of various cancers, such as hereditary breast and ovary cancer or colorectal cancer among others.
Sophia Genetics Hereditary Cancer Solution (HCS) kit is designed for the identification of germline mutations and variants in 27 genes involved in several hereditary cancers by Next-generation Sequencing (NGS), such as:
Hereditary Breast and Ovary Cancer : ATM, BARD1, BRCA1, BRCA2, BRIP1, CDH1, CHEK2, FAM 175A, MRE11A, NBN, PALB2, PIK3CA, RAD50, RAD51C, RAD51D, TP53 y XRCC2.​
Lynch Syndrome: EPCAM, MLH1, MSH2, MSH6, PMS2 y PMS2CL​
Intestinal Polyposis Syndrome: MUTYH, PTEN y STK11​
Familial adenomatous polyposis: APC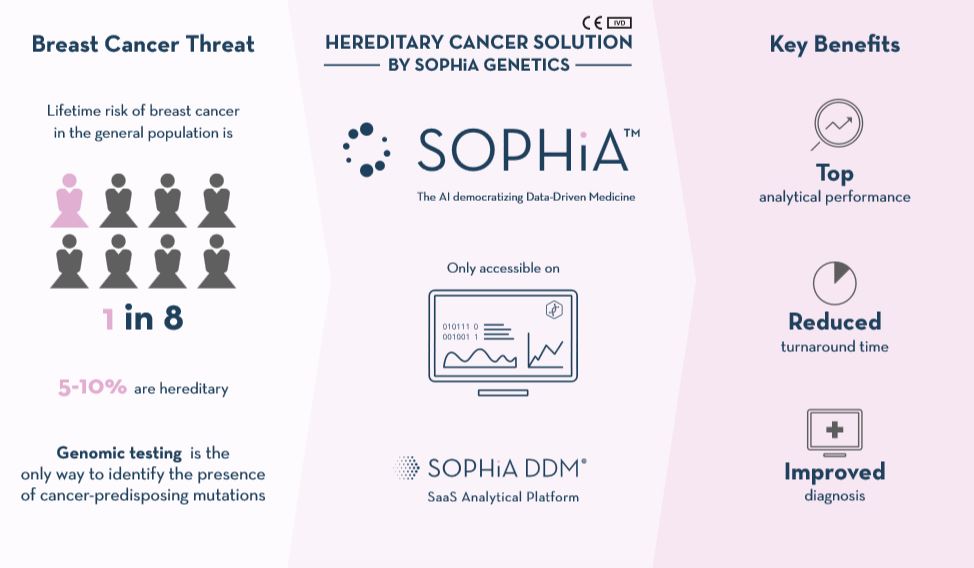 In addition, it allows the detection of SNVs, Indels and CNVs, as well as ALU insertions.
The kit uses NGS capture technology and is intended for Illumina platforms. The results are interpreted in the SOPHiA DDM platform, designed for the analysis and protection of NGS clinical data in the routine diagnosis .

In addition to the Hereditary Cancer Solution kit, other panels for clinical diagnosis in areas such as metabolism, oncohemtology, nephrology or cardiology are available.
Available formats
16 test
32 test
48 test
Private Documentation
This content is protected for registered users.
Login