DaraEx eliminates daratumumab interference in indirect Coombs-based tests.

DaraEx is a novel reagent indicated to prevent interference of anti-CD38 antibodies, such as daratumumab, in laboratory assays within the blood bank. Daratumumab is a biological drug consisting of a monoclonal antibody directed against the CD38 receptor. The DaraEx reagent consists of an antibody moiety that binds specifically to the CD38 receptor on red blood cells, blocking it and preventing daratumumab from binding in-vitro to red blood cells when serum from a patient undergoing treatment is added. In this way, the non-specific panagglutination that is normally obtained in indirect Coombs studies in patients treated with this drug (up to 6 months after the last administration) is avoided.
The use of DaraEx is very simple and only requires incubation of the red blood cells to be tested with the reagent for 30 minutes. Once this time has elapsed, the red cells can be studied with the same gel card technique normally used in the centre's routine. Moreover, being an antibody-based technique, it is fully specific and does not affect Kell antigens and does not produce haemolysis.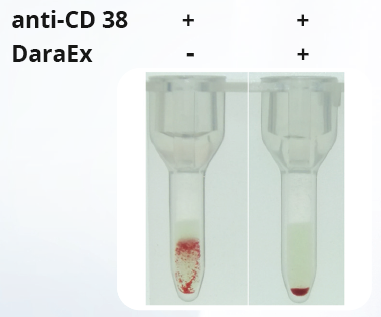 Advantages:
Rapid and simple procedure.
Applicable to both antibody screening and cross-matching tests.
Highly specific technique, which achieves blockade of the CD38 receptor.
No undesirable effects such as destruction of blood group antigens or haemolysis.
Effective for other drugs such as felzartamab and isatuximab.