NGS kit for the study of solid tumors associated genes.

The FusionPlex® Pan Solid Tumor v2 panel is a targeted next-generation sequencing (NGS) research product that expands on the FusionPlex Solid Tumor panel to include key fusions and variants relevant across solid tumors and sarcomas in 137 genes.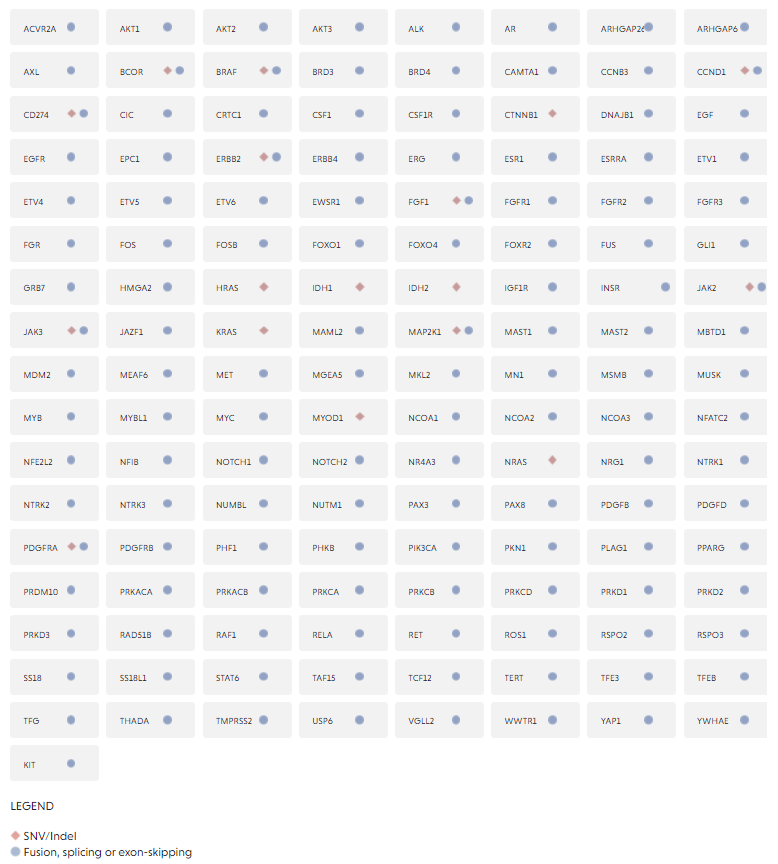 Representing our most comprehensive fusion coverage, the updated design includes key fusions and variants.
FusionPlex® uses RNA instead of DNA as input material, which allows for more accurate and more cost-effective fusion detection than DNA-based hybrid capture techniques. FusionPlex® places gene-specific primers near known fusion breakpoints to identify RNA abnormalities with a single primer. Because FusionPlex® can identify known and novel alterations with a limited number of primers, it can detect fusions more efficiently and accurately than DNA-based approaches.
This panel uses Anchored Multiplex PCR (AMP™)-based enrichment to detect all fusions associated with the genes in a single sequencing product, even without prior knowledge of fusion partners or breakpoints.
Archer Analysis software allows the analysis and interpretation of the data.
Comprehensive Fusion Detection
AMP™ chemistry utilizes open-ended targeted amplification to identify gene fusions whether or not the fusion partner is known.
Splice Variant
Detect cancer-associated isoforms and alternative splicing events.
Low Input
Purpose-built for wide sample type compatibility, including low-input and degraded samples such as FFPE tissue.
Customization
Possibility to create from scratch or modify any panel.
| | |
| --- | --- |
| Gene Targets | 137 |
| Input Nucleic Acid Required* | ≥10 ng |
| Unique Molecular On-Target % | >96% |
| Hands-On Time | 3.5 hours |
| Total Time | 1.5 days |
| Platform | Illumina® e Ion Torrent™ |
| Sample Types | Fresh, frozen and FFPE |
*Input mass requirements vary depending on type and quality. Unless the tumor cellularity and sample quality are high, 50ng of FFPE-derived nucleic acid should be considered the minimum recommendation. If input is not limiting, 200ng is recommended.
| Product | Presentation |
| --- | --- |
| FusionPlex® Pan Solid Tumor v2 | |
| AB0137 | 8 reactions |
Private Documentation
This content is protected for registered users.
Login