The GeoMx® Immune Pathways Panel is designed to profile key aspects of tumor biology, the tumor microenvironment, and the immune response, with spatial resolution from distinct regions of interest with a single tissue section.

This panel allows you to profile the expression of 84 RNA targets covering several pathways. You will be able to:
Profile the global immune response
Assess microenvironment immune activity
Quantify tumor reactivity
Measure the 18-gene Tumor Inflammation Signature (TIS) known to be associated with response to PD-1/PD-L1 inhibitor pathway blockade

Furthermore, it can be customized with up to 10 additional targets of interest.
The GeoMx® Immune Pathways Panel is compatible with RNAscope® technology and antibody morphology markers for tissue imaging and ROIs selection.
The read out is performed by nCounter, and the software GeoMx DSP data center provides an end-to-end software solution from image acquisition and region of interest selection to a fully integrated data analysis experience.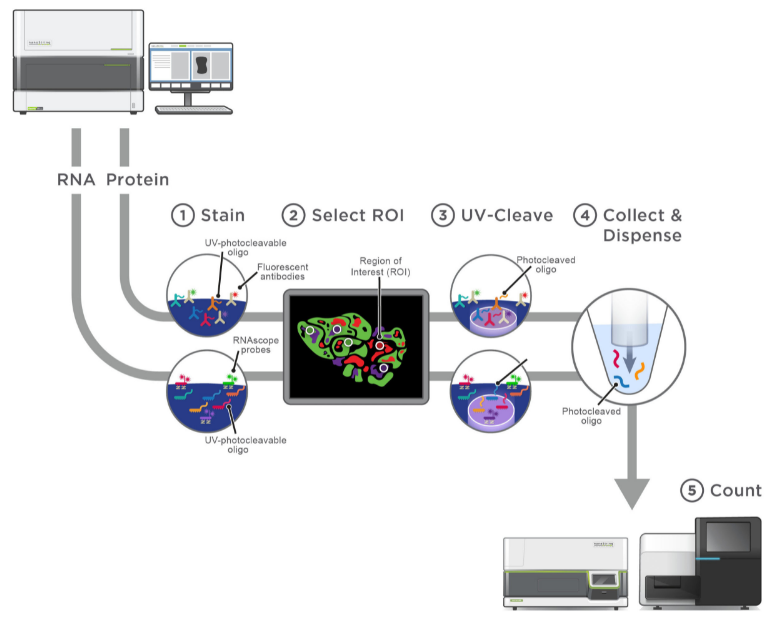 For more information about the pathways and processes included in the panel, please, consult the product file you can download below or visit the NanoString web:
| Product | Product Description | Quantity | Catalog Number |
| --- | --- | --- | --- |
| GeoMx Immune Pathways Panel Human RNA Core for nCounter | RNA panel including 84 targets plus controls for human immune pathways and TIS (Tumor Inflammation Signaturee). Includes RNA probes | 12 slides | GMX-RNA-NCT-HIP-12 |
| GeoMx Solid Tumor TME Morphology Kit Human RNA Compatible | Morphology kit for visualization of human solid tumors and the tumor microenvironment. For use with RNA assays. Includes fluorescent antibodies against Pan-CK, CD45, and a nuclear stain | 12 slides | GMX-RNA-MORPH-HST-12 |
| GeoMx Melanoma TME Morphology Kit Human RNA Compatible | Morphology kit for visualization of human melanoma and the tumor microenvironment. For use with RNA assays. Includes fluorescent antibodies against S100B/Pmel17, CD45, and a nuclear stain | 12 slides | GMX-RNA-MORPH-HMEL-12 |
| GeoMx RNA Slide Prep Kit for FFPE | Sample prep reagents for GeoMx DSP RNA analysis. Includes Buffer W, Buffer S, and Buffer R | 12 slides | GMX-PREP-RNA-FFPE-12 |
| GeoMx Hyb Code Pack RNA | nCounter readout reagents for GeoMx DSP RNA analysis. Inlcudes Hyb Code A-H, Probe ICP, and additional hybridization buffer | 96 areas of interest (AOI) | GMX-RNA-HYB-96 |
| GeoMx DSP Collection Plate | Barcoded collection plates for use in the GeoMx DSP. Required for AOI tracking. Kit includes 12 plates covering 1,152 AOI | 1 pack | GMX-DSP-COLL-PLT |
| GeoMx DSP Instrument Buffer Kit | Buffer kit for the GeoMx DSP. Includes Buffer S and Buffer H. Sufficient for -48 samples with -18 AOI each. Volume requirements may vary based on experimental design | 1 kit | GMX-DSP-BUFF-KIT |
| nCounter Master Kit (Max or FLEX Systems) Reagents and Cartridges | Reagents, cartridges, and consumables necessary for sample processing on nCounter MAX and FLEX Systems | 96 AOI | NAA-AKIT-012 |
| nCounter SPRINT Cartridge | Sample Cartridge for nCounter SPRINT System | 96 AOI | SPRINT-CAR-1.0 |
| nCounter SPRINT Reagent Pack | nCounter SPRINT Reagent Pack containing Reagents A, B, C, and Hybridization Buffer | 1,536 AOI | SPRINT-REAG-KIT |