Comprehensive spatial study of cellular biology, with full coverage of protein coding genes, and application in several fields: oncology, immunology, neuroscience, developmental biology...

The GeoMx® Whole Transcriptome Atlas (WTA) panel is designed to perform a complete spatial transcriptomic study in human or mouse, selecting regions of interest in the tissue (fresh, frozen or fixed) and obtaining an accurate expression profile without damaging the tissue or microdissecting it.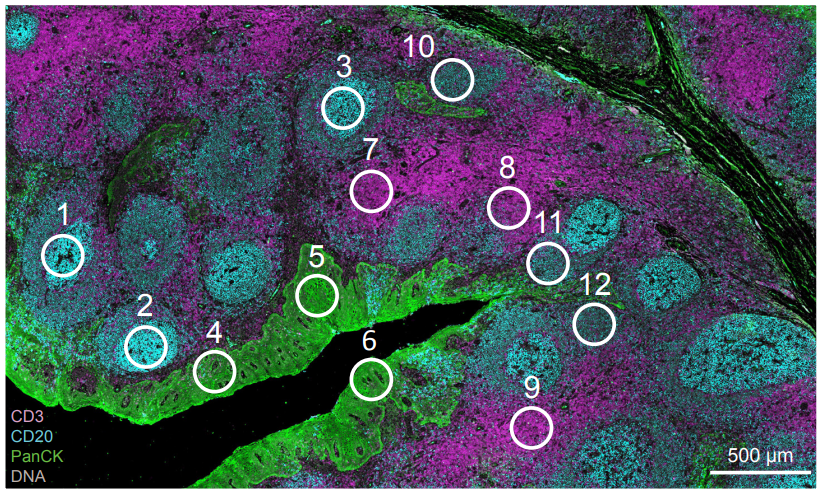 This panel allows you to profile the expression of over 18,00 genes, making possible full coverage of protein coding genes.
Spatial Profiling: Possibility to explore gene expression in regions of interest, being able to identify the cellular content and metabolic pathways involved.
Biomarker Discovery: Localization and expression of therapeutic targets "in situ" to identify processes and treatment response.
Pathway Analysis: The annotated content provides insight into the activation status of signaling pathways within the tissue compartments of interest.
The GeoMx® WTA is compatible with RNAscope® technology and antibody morphology markers for tissue imaging and ROIs selection.
The read out is performed by Next-Generation Sequencing (NGS) with Illumina platforms, and the software GeoMx DSP data center provides an end-to-end software solution from image acquisition and region of interest selection to a fully integrated data analysis experience.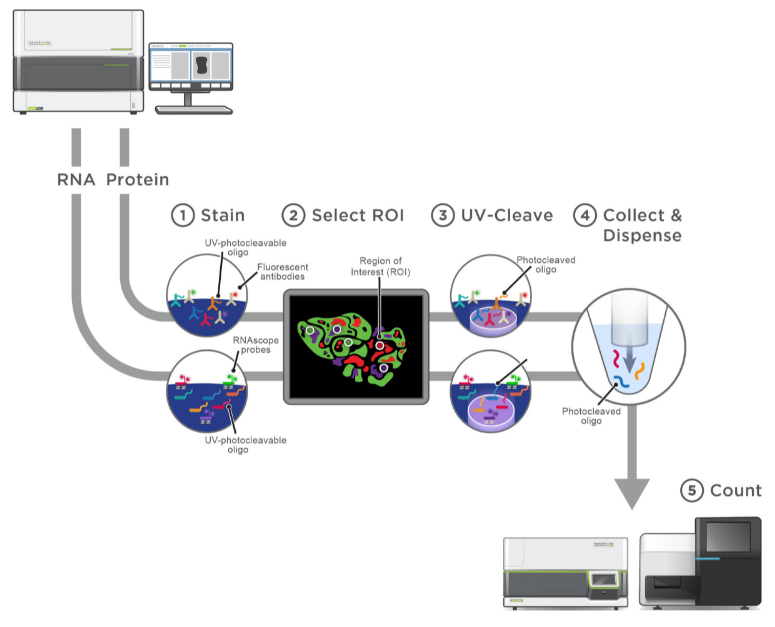 For more information about this panel, please, consult the product file you can download below.
| Product | Product Description | Quantity | Catalog Number |
| --- | --- | --- | --- |
| GeoMx Human Whole Transcriptome Atlas Human RNA for Illumina Systems | RNA probe set that targets 18,000+ transcripts for human protein coding genes plus ERCC negative controls to profile the whole trasncriptome. Excludes uninformative high expressing targets such as ribosomal subunits. Includes RNA probes designed for Illumina NGS readout with the Seq Code library prep | 4 slides | GMX-RNA-NGS-HuWTA-4 |
| GeoMx Mouse Whole Transcriptome Atlas Mouse RNA for Illumina Systems | RNA probe set that targets 21,000+ transcripts for mouse protein coding genes plus ERCC negative controls to profile the whole trasncriptome. Excludes uninformative high expressing targets such as ribosomal subunits. Includes RNA probes designed for Illumina NGS readout with the Seq Code library prep | 4 slides | GMX-RNA-NGS-MsWTA-4 |
| GeoMx Solid Tumor TME Morphology Kit Human RNA Compatible | Morphology kit for visualization of human solid tumors and the tumor microenvironment. For use with RNA assays. Includes fluorescent antibodies against Pan-CK, CD45, and a nuclear stain | 12 slides | GMX-RNA-MORPH-HST-12 |
| GeoMx Melanoma TME Morphology Kit Human RNA Compatible | Morphology kit for visualization of human melanoma and the tumor microenvironment. For use with RNA assays. Includes fluorescent antibodies against S100B/Pmel17, CD45, and a nuclear stain | 12 slides | GMX-RNA-MORPH-HMEL-12 |
| GeoMx Seq Code Pack Compatible with Illumina Systems | NGS readout reagents for GeoMx DSP RNA and protein analysis. Includes two Seq Code primer plates (choice of A&B, C&D, E&F, o G&H) and two universal enzyme master mixes | 192 areas of interest (AOI) | GMX-NGS-SEQ-[XX] |
| GeoMx RNA Slide Prep Kit for FFPE | Sample prep reagents for GeoMx DSP RNA analysis. Includes Buffer W, Buffer S, and Buffer R | 12 slides | GMX-PREP-RNA-FFPE-12 |
| GeoMx DSP Collection Plate | Barcoded collection plates for use in the GeoMx DSP. Required for AOI tracking. Kit includes 12 plates covering 1,152 AOI | 1 pack | GMX-DSP-COLL-PLT |
| GeoMx DSP Instrument Buffer Kit | Buffer kit for the GeoMx DSP. Includes Buffer S and Buffer H. Sufficient for -48 samples with -18 AOI each. Volume requirements may vary based on experimental design | 1 kit | GMX-DSP-BUFF-KIT |