La prueba más completa para determinar el estado de deficiencia de la recombinación homóloga (HDR) estudiando los genes BRCA y 13 más adicionales, en pacientes con cáncer de ovario.

myChoice CDx PLUS is the first FDA-approved in vitro diagnostic test to determine Homologous Recombination Deficiency (HRD) status by NGS in patients with ovarian cancer.
Homologous recombination is the mechanism by which DNA damage is repaired. When homologous recombination is not able to fix the damaged DNA, it is called Homologous Recombination Deficiency. Approximately 50% of all ovarian cancer tumors have HRD. HRD status is determined by analyzing the tumor for mutations in the BRCA1 and BRCA2 genes and then by measuring genomic instability. Thirteen additional genes are also studied: ATM, BARD1, BRIP1, CDK12, CHECK1, CHECK2, FANCL, PALB2, PPP2RA2, RAD51B, RAD51C, RAD51D and RAD54L. If there is a mutation in these genes, or the measure of genomic instability is above a certain level, it is considered HRD positive (HRD+).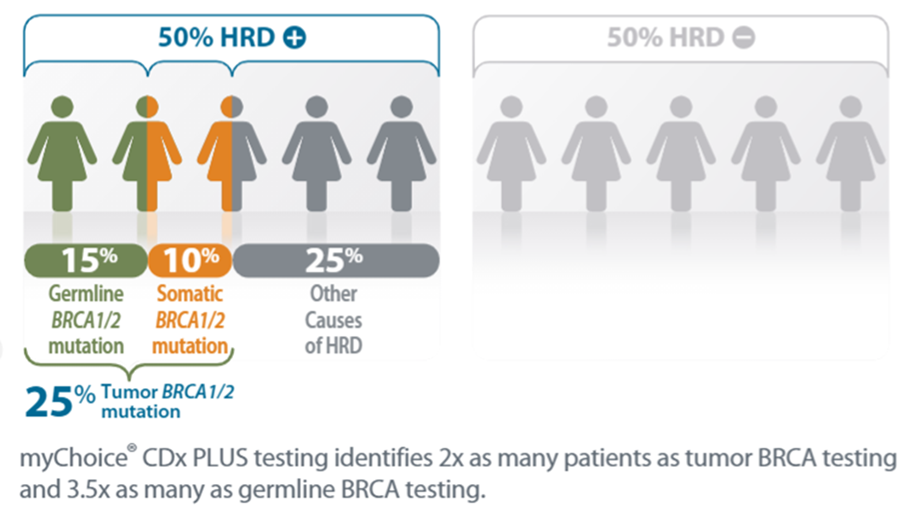 If the tumor is HRD+, it is more likely to respond to agents that block DNA repair, such as PARP (Poly ADP ribose polymerase) inhibitors (Olapariby Bevacizumab), than those tumors without genomic instability. When DNA damage cannot be corrected, cancer cells are killed, and tumor growth is slowed or even reversed. Thus, with myChoice CDx PLUS it is possible to evaluate the benefit of PARP inhibitor therapy in patients.
myChoice CDx PLUS enables the detection and classification of single nucleotide variants, insertions and deletions, and large rearrangements in the protein coding regions and intron/exon boundaries of BRCA1 and BRCA2 genes and the 13 additional genes mentioned, as well as the calculation of the Genomic Instability Score (GIS) using an algorithm that takes into account Loss Of Heterozygosity (LOH), Telomeric Allelic Imbalance (TAI) and Large-Scale Transitions (LST).

It is the only commercially available tumor test designed to detect large rearrangements, which account for 5% of all ovarian cancer mutations.
Key features:
Robustness
Accuracy
Reproducibility
Easy-to-interpret results
Servicio realizado en Estados Unidos. Se realizará la recogida de muestras FFPE con un área ≥25mm2 que contenga 40 µm de tumor. La muestra ideal debería tener ≥30% de tumor.

| Área de tumor (mm2) | Nº de cortes de 5 µm sin teñir |
| --- | --- |
| 20-25 | 8 |
| 15-19 | 12 |
| 10-14 | 16 |
| 5-9 | 20 |