Study of genes involved in core metabolic processes and immunometabolism.

The Metabolic Pathways Panel is designed for the study of the complex mechanisms behind metabolic adaptation, metabolic switching, metabolic alterations, and study changes in mitochondrial respiration and glycolysis.
This panel could help you with the searching of novel therapeutic targets for the treatment of altered metabolism in cancer and other diseases.

It includes 768 genes (request list) involved in 34 pathways related to Biosynthesis and Anabolic Pathways, Nutrient Capture and Catabolic Pathways, Cell Stress, Metabolic Signaling and Transcriptional Regulation.
For more information about the pathways included in the panel and the immune cell profiling, please, consult the product file you can download below or visit the NanoString web: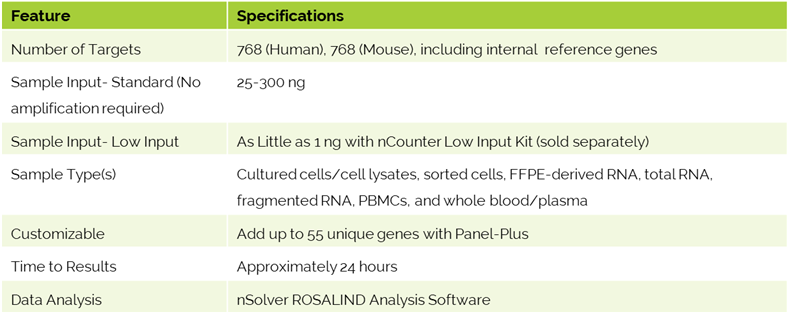 Panel Customization
The Metabolic Pathways Panel could be combined with a Panel Plus, which will allow you to add up to 55 genes chosen by the client.
If you want to check that this panel is the most suitable for you, you can go to the NanoString Panel Pro panel selection tool:
| Product | Product Description | Quantity | Catalog Number |
| --- | --- | --- | --- |
| nCounter Human Metabolic Pathways Panel | Includes 768 genes; 20 internal reference genes for data normalization | 12 Reactions | XT-CSO-HMP1-12 |
| nCounter Mouse Metabolic Pathways Panel | Includes 768 genes; 20 internal reference genes for data normalization | 12 Reactions | XT-CSO-MMP1-12 |
| nCounter Master Kit (Max or FLEX Systems) Reagents and Cartridges | Reagents, cartridges, and consumables necessary for sample processing on nCounter MAX and FLEX Systems | 12 Reactions | NAA-AKIT-012 |
| nCounter SPRINT Cartridge 1 Cartridge, 12 lanes | Sample Cartridge for nCounter SPRINT System | 12 Reactions | SPRINT-CAR-1.0 |
| nCounter SPRINT Reagent Pack | nCounter SPRINT Reagent Pack containing Reagents A, B, C, and Hybridization Buffer | 192 Reactions | SPRINT-REAG-KIT |