Comprehensive gene expression study of myeloid-derived cells.

The Myeloid Innate Immunity Panel is designed to encompass all aspects of the innate immune response of myeloid-derived cells.
It includes 770 genes (human panel) and 754 genes (mouse panel) involved in 19 pathways and processes across all major myeloid cell types: neutrophils, eosinophils, mast cells, dendritic cells, macrophages, monocytes, Immature Myeloid Cells (IMCs), Tumor Associated Macrophages (TAMs)…

This panel can be used for basic and translational research in immuno-oncology, autoimmunity, and infectious disease, allowing the study of immune evasion mechanisms, damage response, wound healing, tissue repair, immune regulation, disease pathogenesis and treatment response.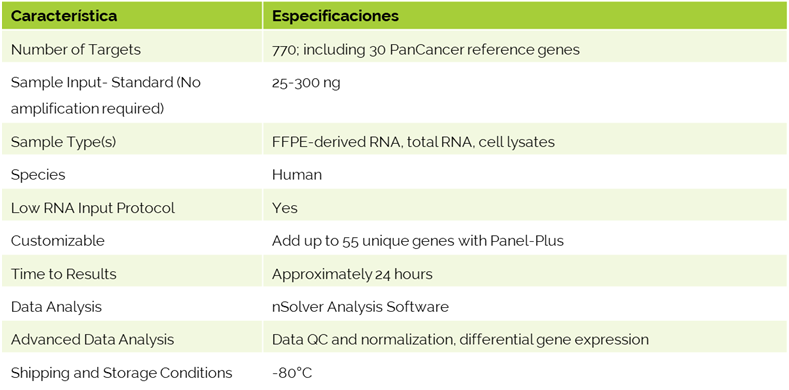 Panel customization
The Myeloid Innate Immunity Panel could be combined with a Panel Plus, which will allow you to add up to 55 genes chosen by the client.
If you want to check that this panel is the most suitable for you, you can go to the NanoString Panel Pro panel selection tool:
| Product | Description | Size | Catalog Number |
| --- | --- | --- | --- |
| nCounter Human Myeloid Innate Immunity Panel V2 (CodeSet only) | Includes 770 genes; 40 internal references genes for data normalization | 12 Reactions | XT-CSO-HMII2-12 |
| nCounter Mouse Myeloid Innate Immunity Panel V2 | Includes 754 genes; 20 internal references genes for data normalization | 12 Reactions | XT-CSO-MMII2-12 |
| nCounter Master Kit (Max or FLEX Systems) Reagents and Cartridges | Reagents, cartridges, and consumables necessary for sample processing on nCounter MAX and FLEX Systems | 12 Reactions | NAA-AKIT-012 |
| nCounter SPRINT Cartridge 1 Cartridge, 12 lanes | Sample Cartridge for nCounter SPRINT System | 12 Reactions | SPRINT-CAR-1.0 |
| nCounter SPRINT Reagent Pack | nCounter SPRINT Reagent Pack containing Reagents A, B, C, and Hybridization Buffer | 192 Reactions | SPRINT-REAG-KIT |
| Low Input RNA Reagent Kit | 48 reactions kit for profiling from low sample input amounts | 48 Reactions | LOW-RNA-48 |
| Pools de primers Human Myeloid Innate Immunity | MTE primer pools for Low Input RNA profiling (770 genes) 730 immune related human genes + 40 internal reference controls. Master Kit, RNA Low Input Kit and Panel CodeSet Required | 12 Reactions | PP-HMII2-12 |
| Mouse Myeloid Innate Immunity | MTE primer pools for Low Input RNA profiling (754 genes) 734 immune related genes + 40 internal reference controls. Master Kit, RNA Low Input Kit and Panel CodeSet Required | 12 Reactions | PP-MMII2-12 |