Chimerism monitoring by NGS

Chimerism monitoring by Next Generation Sequencing (NGS) is the latest development in chimerism surveillance and replaces the less sensitive conventional STR (short tandem repeat) method because of its higher sensitivity.
NGStrack provides reliable chimerism data, at both high and low percentages. Furthermore, the short workflow with only 1.5 hours hands-on time provides quick and easy results.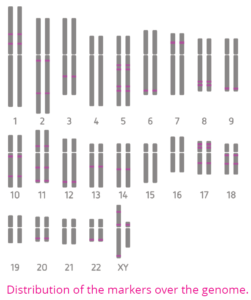 The NGStrack reagents consist of a set of 34 indel markers covering 18 chromosomes, which allow to distinguish between donor and recipient, based on inserted or deleted DNA fragments. The kit also includes an X/Y marker..
NGStrack can be combined with NGSgo HLA samples on the same flow cell. If you are already using chimerism monitoring by qPCR (KMRtype, KMRtrack, and AlleleSEQR) and you want to combine or continue with NGS, the markers overlap so you can have the same informative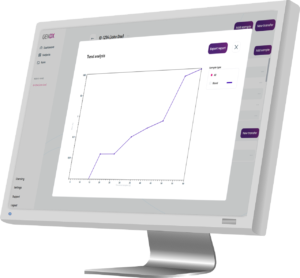 TRKengine software interprets the informativity of the markers and quantifies the chimerism percentage in post-samples. Its use as data management system allows for insightful chimerism monitoring and trending over time.

NGStrack reagents and TRKengine software are compatible with Illumina sequencing platforms. As such, NGStrack can easily be included in our renowned NGSgo® workflow that has been successfully used in HLA labs for many years.
Benefits
Only 1.5 hours of hands-on time
2-10 times more sensitive than STR
Pre-sample needs to be tested only once
| Product | Status | Reactions | Catalog |
| --- | --- | --- | --- |
| NGStrack® Core Kit | RUO | 48 | 8355510 |