Molecular HLA-typing based on a specifically modified TaqMan® probe system

FluoGene is a unique method for molecular HLA-, RBC- (blood group) and HPA-typing combining all advantages of the SSP-PCR with the speed of endpoint fluorescence detection.
The analysis is based on a specifically modified TaqMan® probe system by inno-train. There are two options for detection: the FluoVista analyzer or the FluoQube – inno-train's real-time device.
Up to four fluorophores are detected by the FluoVista® analyzer and an integrated data evaluation is realized by the FluoGene® software.
FluoQube® combines the FluoGene® method with real-time PCR. This system allows amplification and fluorescence reading in one system. The real-time data are automatically imported into the FluoGene® Software for result evaluation.
Inno-train's HLA-FluoGene test systems enable typing of HLA Class I (HLA-A, -B, -C) as well as HLA Class II (HLA-DRB1, -DRB3, -DRB4, -DRB5, -DQA1, -DQB1, -DPA1, -DPB1) markers that are comparable with serology.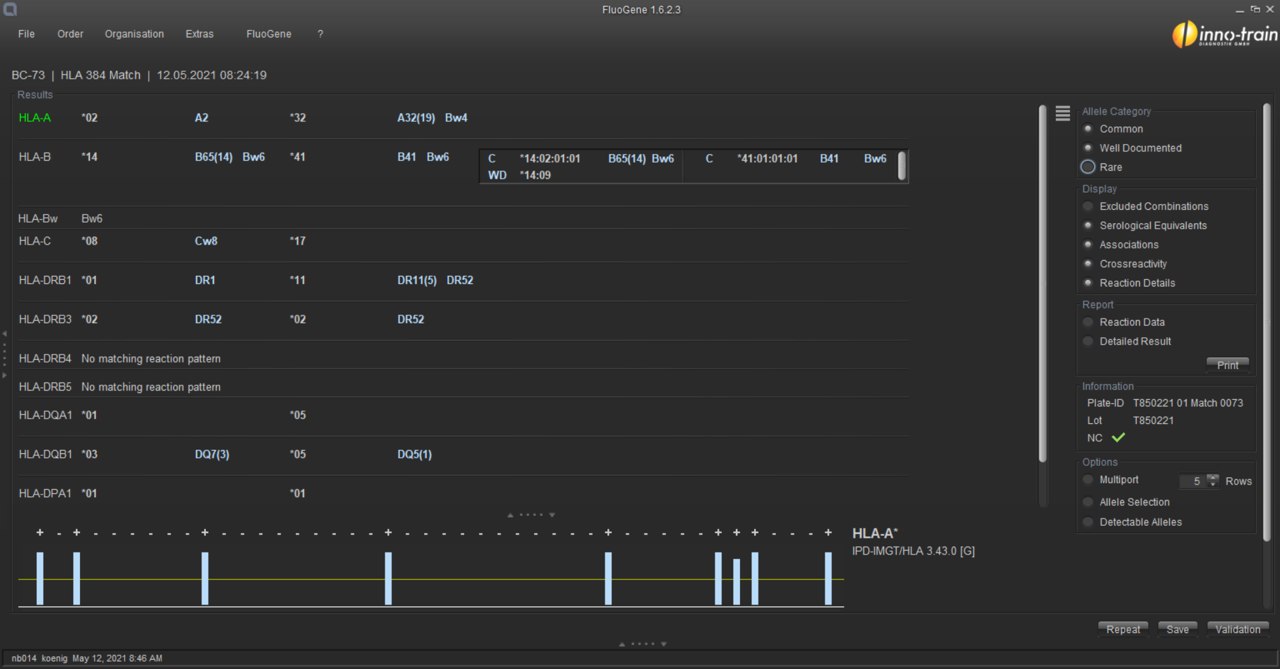 The new HLA FluoGene Match (SABR: single antigen bead resolution) is an ideal solution for matching donors and recipients in solid organ transplantation with a resolution comparable to single antigen antibody kits.
All FluoGene kits are CE marked in accordance with the IVD Directive 98/79/EC and manufactured and tested under a quality system in compliance with DIN EN ISO 13485.
ADVANTAGES:
PCR-SSP method without gel electrophoresis within 90 minutes
no hybridization and washing steps
display of typing results immediately after the post-read
no risk of post-PCR contaminations
low DNA consumption
user-friendly software solution, fully-automated calculation of results
same system for HLA-, RBC- and HPA
use of patented fluorescent dyes and quencher
| Artículo | Test/Plate |
| --- | --- |
| HLA-Fluogene NX ABCDRDQ | 10 |
| HLA-Fluogene NX Match | 5 |
| HLA-FluoGene 384 Match | 10 |
| | |
| HLA-Fluogene A | 1 |
| HLA-Fluogene B | 1 |
| HLA-Fluogene B | 2 |
| HLA-Fluogene C | 1 |
| HLA-Fluogene ABC | 1 |
| HLA-Fluogene ABDR | 1 |
| HLA-Fluogene DRDQ | 1 |
| HLA-Fluogene DRDQ | 3 |
| HLA-Fluogene B27 | 12 |
| HLA-Fluogene DPB1 | 1 |
| HLA-Fluogene DRDQDP Plus | 1 |
| HLA-Fluogene DRDQ Plus | 2 |
| FluoGene Wipe Test | 2 |