NGS assays associated with soft tissue cancers.

The FusionPlex® Sarcoma v2 panel is a targeted next-generation sequencing (NGS) research product that expands on FusionPlex® Sarcoma panel. The updated design covers key fusions and variants in 63 genes relevant in sarcomas.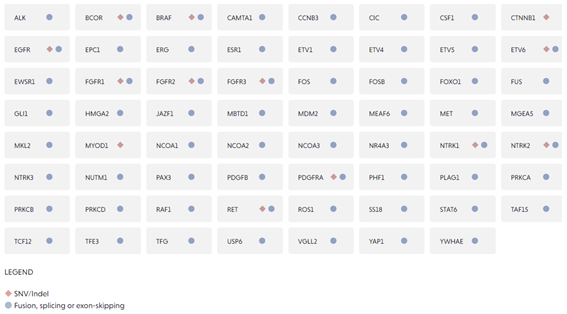 FusionPlex® uses RNA instead of DNA as input material, which allows for more accurate and more cost-effective fusion detection than DNA-based hybrid capture techniques. FusionPlex® places gene-specific primers near known fusion breakpoints to identify RNA abnormalities with a single primer. Because FusionPlex® can identify known and novel alterations with a limited number of primers, it can detect fusions more efficiently and accurately than DNA-based approaches.
Archer Analysis software allows the analysis and interpretation of the NGS data.
Comprehensive Fusion Detection
AMP™ chemistry utilizes open-ended targeted amplification to identify gene fusions whether or not the fusion partner is known.
Quiver® Fusion Database
Powerful fusion analysis combined with a curated database of relevant known translocations.
Low Input
Purpose-built for wide sample type compatibility, including low-input and degraded samples such as FFPE tissue.
Simple Workflow, Lyophilized Reagents
Easy-to-handle lyophilized reagents and a simple workflow to minimize errors and reduce turn-around time.
| | |
| --- | --- |
| Gene Targets | 63 |
| Input Nucleic Acid Required* | ≥10 ng |
| Unique Molecular On-Target % | >95% |
| Sample Types | Fresh, frozen and FFPE |
| Hands-On Time | 3.5 hours |
| Total Time | 1.5 days |
| Platform | Illumina® e Ion Torrent™ |
*Input mass requirements vary depending on type and quality. Unless the tumor cellularity and sample quality are high, 50ng of FFPE-derived nucleic acid should be considered the minimum recommendation. If input is not limiting, 200ng is recommended.
| Product | Reference |
| --- | --- |
| FusionPlex® Sarcoma v2 Kit, for Illumina®- 8 reactions | AB0133 |
| FusionPlex® Sarcoma Kit, for Illumina®- 8 reactions | AB0003 |
| FusionPlex® Sarcoma Kit, for Illumina®- 48 reactions | AB0055 |